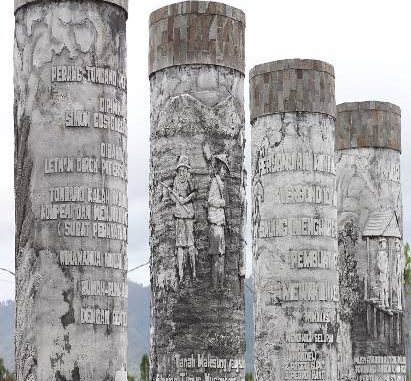 Celebrations for the Indigenous Peoples' Day of Resurrection (HKMAN) 2018 and the 19th anniversary of the Indigenous Peoples Alliance of the Archipelago (AMAN) will be held at Benteng Moraya, Tondano in North Sulawesi on March 17 2018. This location was chosen for the historic triumphs of the Minahasans against Dutch colonialists and their attempts to conquer Minahasa land a few centuries ago.
Tondano is the capital of Minahasa District, a town built by the Minahasa community with support from a British Lieutenant called Thomas Nelson during 1810-1812. During this period, Nelson asked residents who lived in the territory of Benteng Moraya to return to the town square (now known as Sam Ratulangi field).
In the Minahasa language Tondano means 'pool of blood,' referring to the thousands of Minahasans who took refuge in Fort Moraya to defend against the Dutch colonists. Today, the wooden milestones bear witness to the historical event and describes how the Minahasan people won the battle in the face of repeat attacks by Dutch troops.
This historic site reinforces the significance of celebrating Indigenous Peoples Day, as well as the anniversary of AMAN in its struggle for Indigenous Peoples to realise political sovereignty, economic independence and cultural dignity.
The Indigenous Peoples Day celebrations will be preceded by a cultural parade of around 500 indigenous delegates who have arrived from all over the archipelago. They will wear traditional clothing and walk from Sam Ratulangi field to Fort Moraya, accompanied by 100 Minahasa adat youths performing the Kawasaran dance. In addition, various attractions and cultural performances, Indigenous product exhibitions, photo exhibitions and more will be staged as part of the celebrations.