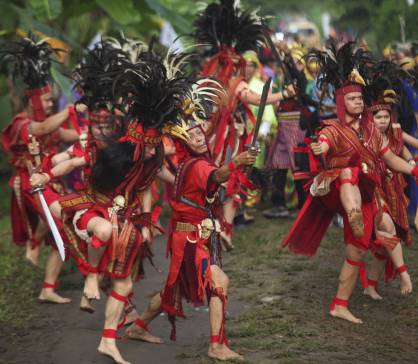 As the sounds of prayer followed the break of dawn on Sunday 11th March 2018, the beating of drums and screams of Kawasaran dancers broke the silence of Sam Ratulangi International Airport in Manado, North Sulawesi. The Minahasa dancers, dressed in traditional adat outfits, were at the airport to greet Rukka Sombolinggi, the Secretary General of the Indigenous Peoples Alliance of the Archipelago (Secretary General of AMAN), who had just set foot on Minahasa traditional land.
"This customary reception by the Kawasaran dancers means that as the makawale (host and hostess) of the implementation of the AMAN National Working Meeting, the Indigenous Peoples in Minahasa land welcome the Secretary General of AMAN with open arms," said Minahasa adat leader Rinto Taroreh. "It is also a sign that we, the Minahasa indigenous people, openly and happily welcome these invited guests, the indigenous leaders of the archipelago, to our land."
According to Taroreh, the poems that accompanied every movement of the Kawasaran dancers is a prayer of supplication to the Creator that the event Rakernas AMAN V will run well and flow like water.
"Kawasaran is a pioneering performance, as the dancers deliver their prayers through phrase and movement to Empung Wailan Wangko to bless the Secretary General of AMAN and open the way," said a representative of the dancers from the Waraney Wuaya Community. "The same prayer has been prepared for the participants of Rakernas and the event proceedings. We also ask that the ancestors bless our steps."
Nedine Helena Sulu received the same welcome. A Minahasa Wewene who has been entrusted as the chairman of the organizing committee for the fifth AMAN National Working Meeting, Sulu said that the presence of the Secretary General of AMAN is an honor for indigenous peoples in Minahasa.
"We feel greatly honored," said Sulu, who has been entrusted as Vice II of the AMAN National Council (DAMANAS). "As the children of this (Minahasa) land we welcome with great joy the presence of Madam Secretary General. This traditional welcome is an expression of acceptance and welcome for the Secretary General and all guests attending Rakernas AMAN, who are the traditional elders of the archipelago."
Meanwhile Rukka Sombolinggi, the Secretary General of AMAN, was unable to hide her emotions. According to her, this acceptance is considered a remarkable moment.
"I am overwhelmed, because I feel welcome in this land, and the reception is extraordinary," said the first female secretary general in the world's largest indigenous organization.
Present at the reception were Minahasa adat leader Rinto Taroreh, the Chairman of the Committee for Rakernas AMAN V Nedine Helena Sulu, and the performers and Kawasaran dancers called Mapanget Wuaya.
This Kawasaran group is part of the Waranaya Wuaya Community (also known as the Kawasaran community) of the Minahasa indigenous people in Tonsea Land, which includes the Sam Ratulangi Airport area.
Rakernas AMAN V will be held in Koha Village, Mandolang Sub-district, on 14 – 17 March 2018. At the same time, the celebration of the Day of Resurrection of Indigenous Peoples of the Archipelago (HKMAN) and the 19th anniversary of AMAN will be based in Fort Moraya Tondano on March 17, 2018. (Rikson Karundeng)